Attenzione!
CHIUSURA PER FERIE!
Saremo chiusi per ferie dal 27/08/2022 al 10/09/2022. Ci rivediamo dal 12 settembre!
Attenzione!
In questo periodo la locanda Ca' Bianca effettua anche pranzi consegnati direttamente al vostro domicilio! Per conoscere i menù proposti e per prenotazioni potete controllare direttamente la nostra Pagina Facebook


Per informazioni contattare i numeri +39 338 1974015 o +39 328 1324790
Welcome to Guesthouse Ca' Bianca
Locanda Occitanta, Pension, Restaurant in Roccabruna (CN), Valle Maira
Typical cuisine, familiar atmosphere, quietness and moderate prices: this is the recipe with which we welcome our customers in the guesthouse Ca`Bianca.

Come and find us in Roccabruna, a village with about 1500 citizens at the foot of the archeological location of Mount RocceRè, in green Maira Valley.

You can taste dishes of typical Occitan cuisine or you can spend a nice stay in our guesthouse, that was built in the 20`s and has been recently restructured. Your stay can be absolutely relaxing or you can take part in a lot of freetime activities, both cultural or sportive, possible at every time of the year.
details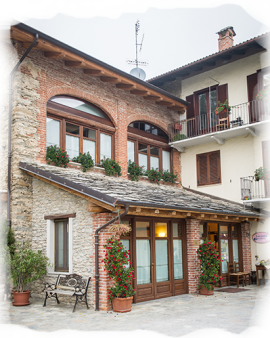 Activities and Surrounding
Maira Valley, Grana Valley and the low valley... all in your hands at Locanda Ca' Bianca
La Locanda Ca 'Bianca is located in an ideal position to enjoy the High Maira Valley as well as to explore the historical and architectural beauties of the city in the lower valley as Cuneo, Busca, Dronero, Caraglio and Saluzzo.
The inn can be the starting point for many activities such as trekking and hiking, mountain biking, but also walks with donkeys or cultural excursions to archaeological finds such as that of Mount Roccerè or the nice and easy hike to discover the famous Ciciu del Villar.



Ospitalità Italiana
La Locanda Ca 'Bianca can boast the renowned certificate "Ospitalità Italiana"
Booking.com
Our facility is also part of the renowned and safe international circuit Booking.com!
New!
We prepare takeaway dish.
Contact us for custom quotes and proposals.
You can order from our menu all the delicacies that you wish for dinners, christenings, communions, confirmations and any other type of occasion.